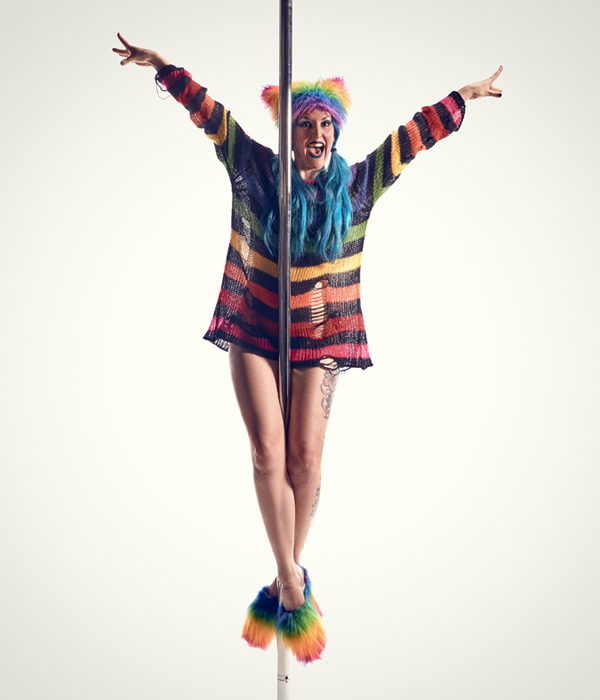 Timetable
Classes will run weekly including bank holidays! We only close for 2 weeks over Christmas. 
Beginners
6:20pm – 7:30pm  Monday 
7:40pm – 8:50pm  Tuesday
6:20pm – 7:30pm  Wednesday
Improver 
7:40pm – 8:50pm  Monday
6:20pm – 7:30pm  Tuesday
7:40pm – 8:50pm  Wednesday
Intermediate / Advanced
6:20pm – 7:30pm Tuesday
How to Book and Pay
To book yourself in to start pole classes, please CLICK HERE to be directed to our new online booking system with Bookwhen.
Classes cost £15 for 70 minutes and you are in full control of booking yourself into classes through Bookwhen. We also offer class passes (bulk payment for multiple classes with a discount) which can be used towards certain classes over a certain time frame. There are no refunds or transfers once payment has been made.
Classes run weekly which means you can start anytime and attend as much as you like. Most students attend one class per week, some do two or more classes per week, and others attend now and then. We are flexible, so how often you attend is completely your choice.

If you have booked in and can longer make a class for whatever reason then you will not be able to receive a refund or transfer your class payment. When you book into a class you do so at your own risk knowing that we don't offer refunds or transfers.
Please make sure you have read through our FAQs and terms and conditions and you have filled in our Online Forms before booking in.
Online Forms
Please fill in our online forms before booking in. The online forms must be filled in before attending class, please click HERE to be directed to the forms.
About Classes
Pole classes cost £15 for a 70-minute session.
We begin with a fun dance / aerobic warm up, followed by pole work and then finishing with a cool down consisting of stretches. Please read the FAQs to find out what is suitable to wear during lessons.
There are no more than 2 students per pole, and no more than 16 in a class. Plenty of space! Classes are taught on both static and spinning pole, four weeks of each. Complete beginners to advanced students are all welcome.
Pole routines will be worked into classes, so students will not only learn how to do spins and tricks but also learn how to link moves together and put their own pole routines together!
Students will also be given the opportunity to perform for friends and family as regular shows are organised for students to take part in. Visit the events pages to find out more.
Anyone can give pole dancing a go: any shape, any size, any fitness level. Emily's Pole Fitness' classes will help you build your confidence and reach your full potential on the pole!
What should we expect?
The class will begin with a fun warm-up, followed by learning some beginner transitions, spins and poses, which are then linked into a basic pole routine for you to try out to music. Classes are suitable for complete beginners to advanced students.
Still have questions? Take a look at the FAQs or get in touch.
Private Classes
Private classes can be arranged with one of our instructors at a time convenient for you, as long as it doesn't clash with a class that is already running. A private class costs £50 for an hour for one person, or £25 per person for two people or more, to be paid directly to the instructor you'd like to book in with.
Please email info@emilyspolefitness.co.uk to book your private class.
Pole Parties
You can book a pole party for any occasion: work team building, birthday, hen do… anything you like! A pole party is 60 minutes long and can be booked for up to 16 people. The price is £25 per person which needs to be paid for in advance to secure your booking. The studio can be decorated to suit your party and you will all receive a certificate of attendance.
Please email info@emilyspolefitness.co.uk to book your awesome party!